Bec vers le bas formant la machine
Les tuyaux de descente sont généralement verticaux et descendent généralement jusqu'au niveau du sol. L'eau est dirigée loin des fondations du bâtiment, afin de protéger les fondations contre les dégâts d'eau. L'eau est généralement raccordée à un égout ou laissée dans le sol.
Une machine de profilage de tuyau de descente , également connue sous le nom de machine de formage de tuyau de descente d'eau de pluie , a été conçue pour la fabrication de tuyaux d'eau de pluie carrés ou ronds (cercles ou rectangulaires).
Un tuyau de descente a beaucoup de noms différents comme, trombe marine, tuyau de descente, goulotte de drainage et tuyau de drainage du toit, etc. Selon wiki, les tuyaux de descente sont principalement appliqués comme suit:
En ce moment , il y a deux types de profileuse de downspout s dans ther marché pour la fabrication de rainspouts carrées et rondes: fixe la machine profileuse de tuyau de descente et rouleau portable downpipe machine de formage.
Petit pain de gouttière K formant la machine
Rouleau formant la machine pour gouttière
Machine de formage à froid
Tuyau de descente de gouttière
Gouttière demi ronde sans couture
Gouttière demi-ronde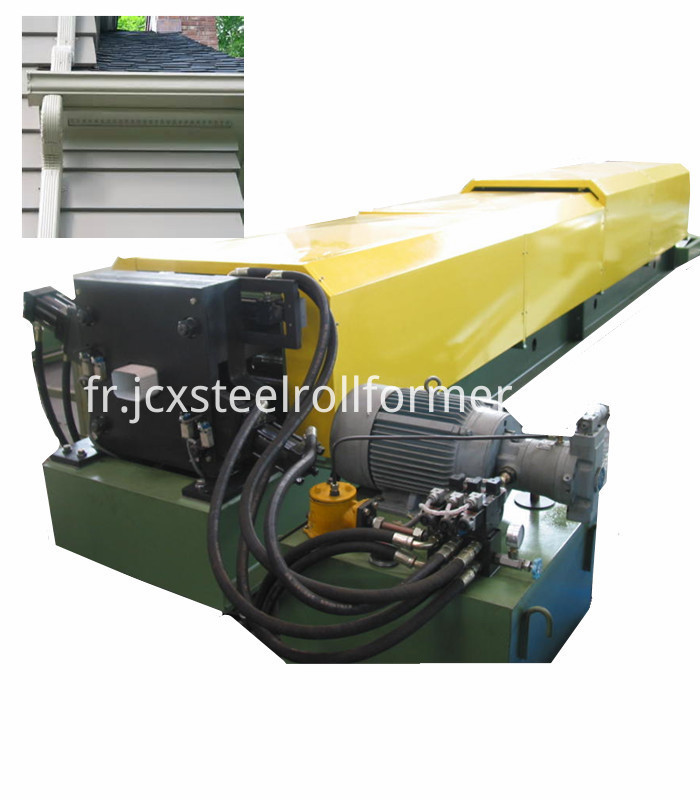 Matériel de l'équipement principal:
No.

Main parameter of steel pipe roll forming machine

1

Suitable to process

Color steel plate

2

Width of the plate

As customer need

3

Thickness of the plate

0.5-0.8mm

4

De-coiler

Manual one, can load 3 tons raw material

5

Rollers for forming

19 rows

6

Diameter of the roller

Φ60mm

7

Rolling material

Carbon Steel no. 45

8

Main motor power

5.5kw

9

Productivity

8-10m/min

10

Cutting method

mold cutting

11

Material of the cutting blade

Cr12

12

Hydraulic cutting power

3kw

13

Processing precision

Within 2.00mm

14

Control system




Panasonic PLC control

15

Main structure of the machine

300 H steel

16

Weight

About 7.5T

17

Dimensions

17*1.2*1.4m

18

Voltage

380V 50Hz 3phases(changeable as needs)
Matériau du rouleau: Haute qualité NO. 45 acier forgé, chromé dur plaqué sur la surface du rouleau avec une épaisseur de 0,05 mm.
Matériau de l'arbre actif: Haute qualité NO. Acier forgé 45 carbone de diamètre 72mm.
Lame de coupe: acier moulé Cr12 avec traitement trempé.
Ils sont largement utilisés comme toit de jardin comme usine, hôtel, centre d'exposition, villa, construction civile, etc.
Groupes de Produits : Petit pain de descente formant la machine > Petit pain carré de tuyau de descente formant la machine