machine de formage de laminoirs c et z
Notre machine de formage de rouleaux de purlin cz est entièrement automatique, ce qui permet d'économiser du temps et du travail.
et vous pouvez le voir dans le nom, il peut faire c purlin et z purlin.
Un aspect important est: le prix est beaucoup plus bas que les machines séparées à deux ensembles C et Z.
(Bien sûr, si vous voulez avoir une machine séparée: une machine C Purlin et une machine Z Purlin, nous en avons aussi).
Normalement l'épaisseur est de 1.5-3mm. Taille du modèle: C100-300 et Z140-300.
La vitesse peut être 20-24m / min sans poinçonnage.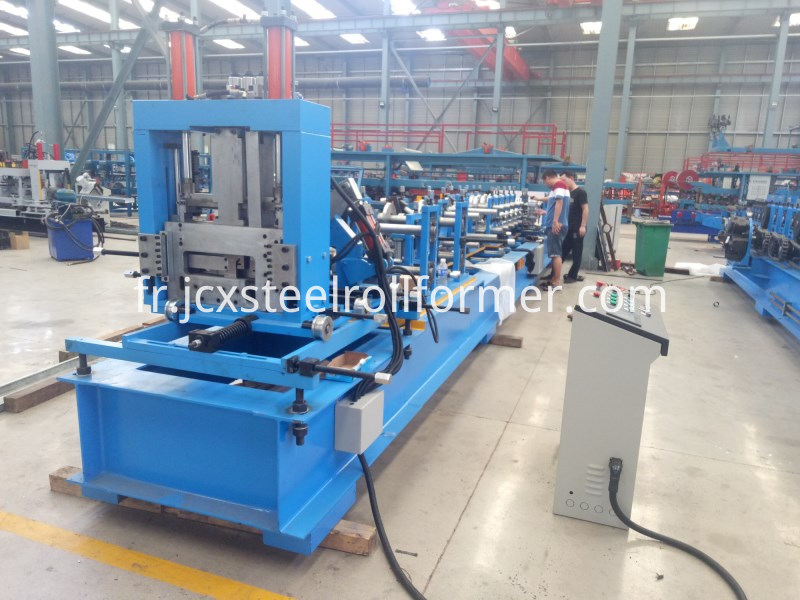 Paramètres de la machine de formage de rouleaux de purlin CZ entièrement automatique:
No.

Item

Description

1

Suitable material

Cold rolled coil,hot rolled coil, galvanized coil

2

Yield strength

Q235 Mpa, Q350Mpa

3

Material Thickness

1.5-3.0mm

4

Finished products

C Model: : Width: 80-300mm

Height: 40-80mm

Lips: 10-20mm

Z: Width: 140-300mm

Height: 50-80mm

Lips: 10-20mm(Inner angle:135°)

5

Forming Speed

20-24m/min without punching(Depends on quantity of holes, speed will be some slower if holes over 5 sets)

6

Roller stations

20 stations

7

Material of Roller

GCr15 bearing steel with quenched treatment

8

Material of Main Shaft

45# steel finishing machining and then slack

9

Diameter of Shaft

80mm

10

Driven Motor Power

Three-phase asynchronous motor / hydraulic motor (optional) 30kw

11

Electric Control System

Delta/ Panasonic PLC

12

Material of Cutter

Gcr12 mould steel with quenched treatment

13

Driving Mode

Chain+Gear transmission

14

Punching

Post punching with 16*22 slot holes

15

Cutting type

Post cutting

16

Cutting Accuracy

±2mm

17

Power Supply

380V50HZ 3 phases or customized

18

Hydraulic Pressure

16-20Mpa

19

Weight

9.5 tons

20

Dimension(L*W*H)

About 9500*1200*1500mm
Informations sur la société
JCX est une société spécialisée dans le domaine des machines de laminage à froid et du traitement de la tôle. Nous développons diverses machines de formage par laminage à froid pour la fabrication de tuiles de toiture, l'armature en métal du plafond et la machine de soudage, qui sont utilisées dans les domaines suivants tels que l'industrie de la construction, l'industrie automobile, l'industrie de l'emballage. L'usine JCX a été construite en 2000 et ses machines ont été vendues dans plus de 70 pays, alors faites-nous confiance. Avec nous, créez votre propre monde de formage à froid.

Emballage et expédition:
1). Emballage de la ligne de conteneur adapté à l'expédition à l'étranger
2) Les sujets peuvent être chargés dans un conteneur de 40 '.
3) Style d'emballage: Couvert d'un film plastique, de pièces de rechange et de petites pièces emballées dans une boîte en carton.
Certifications: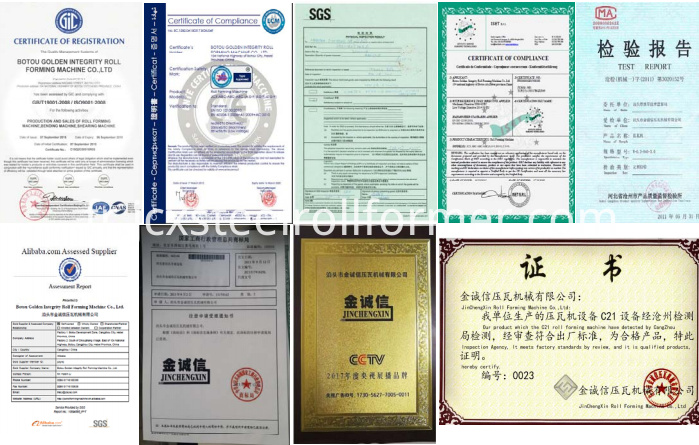 Notre produit principal: la machine de formage de rouleaux de purlin CZ, la machine de formage de rouleaux de feuille de toit, la machine de glissière de barrière de sécurité / glissière de sécurité, la machine de laminage de porte à obturateur roulant,
Tout intérêt, il suffit de contacter avec nous pour plus de détails!

Groupes de Produits : C / Z Purlin Roll formant la machine > Petit pain de Purlin de CZ formant la machine